Last Updated on August 29, 2019 by jbgaray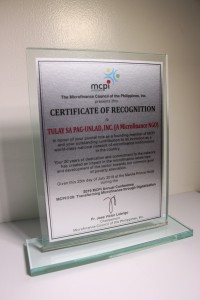 On July 25, 2019, during MCPI's Annual General Membership meeting at Manila Prince Hotel, Ermita, Manila, TSPI is recognized in honor of its pivotal role as founding member of MCPI and its outstanding contribution to the Council as a world-class national network of microfinance institutions in the country.
MCPI is the national network of microfinance institutions working towards sustainable, innovative and client-responsive solutions to poverty in the country. MCPI is currently comprised of 57 institutions, including 47 practitioners and 10 support institutions. Its regular members include 26 non-government organizations, 13 banks, 6 cooperatives and 2 regional networks.